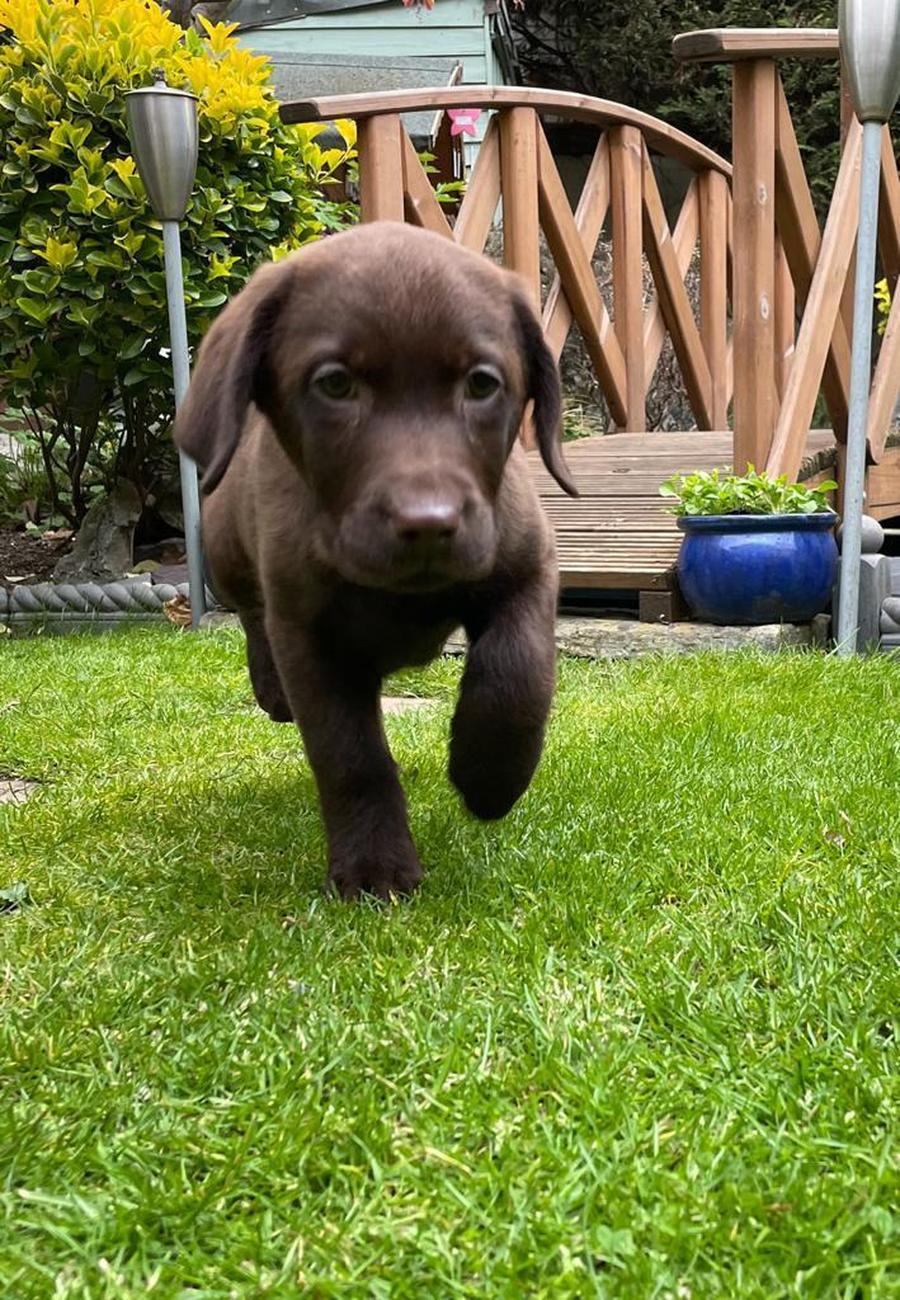 We are delighted to announce that we have a new CEJA staff member. Archie is a chocolate Labrador Retriever with gorgeous brown eyes and a lovely kind face. He started life living with a lovely family, his mum, his six siblings and his nanny.
Labrador Retrievers are known for their gentle nature, their ability to learn, their love of people and their endless energy and sense of fun.
Archie will be based principally around the school office area and will only have contact with children under direct supervision by Sheena Smith- his handler. When Archie is on site, he will be kept on a lead at all times. All costs related to care, will be covered by Sheena Smith. There will be no costs incurred by the school.
In recent years, awareness of the benefits of canine assisted therapies (CAT) within education settings has grown amongst educators and the dog- loving public at large. At CEJA, we are committed to ensuring that the wellbeing of our pupils and staff is at the heart of everything we do. As a school community, we have pulled together to support each other during the COVID-19 pandemic and will continue to do so. To further our commitment to promoting positive wellbeing, we have introduced a school dog in order to support pupils with their academic, emotional and social development and to further promote positive wellbeing during the school day for staff.
For the remainder of the summer term, Archie will be on site getting used to the sounds and smells of our busy school. He will not be having any contact with children.
Once he has settled fully into school life during the autumn term, he will begin to be used:
• To encourage reluctant readers by running 'Bark and Read' interventions.
• To improve the attendance and punctuality of focus pupils.
• To develop the language and communication needs of pupils by incorporating Archie into SaLT sessions.
• To encourage reluctant writers by writing about Archie's adventures or by writing for Archie who will not judge or suggest amendments.
• To support pupils who find transition into school challenging by Archie greeting them as they arrive.
• To support children who have suffered bereavement or other trauma.
• To support children who are socially isolated.
• To support children who are feeling sad.
• To increase pupil confidence and wellbeing.
• To encourage positive behaviour by offering time with Archie as a reward.
• To be used to support pupils in a calming capacity if distressed or demonstrating negative behaviours.
• To develop a sense of collective care and responsibility for Archie.
• To support staff in having a mental break from their work by spending time with Archie thus alleviating work-based stress.

The school respects the views and wishes of staff and parents/carers who would prefer not to have contact with Archie. If this is the case, I would ask that you notify the school office so we can ensure Archie does not have close contact with either you or your child.
If you would like more information about our intended work with Archie including our risk assessment, please do not hesitate to visit our website and read our Canine Assisted Therapy Policy. We are all very much looking forward to working with and enjoying our time with Archie and thank you as always for your continued support.