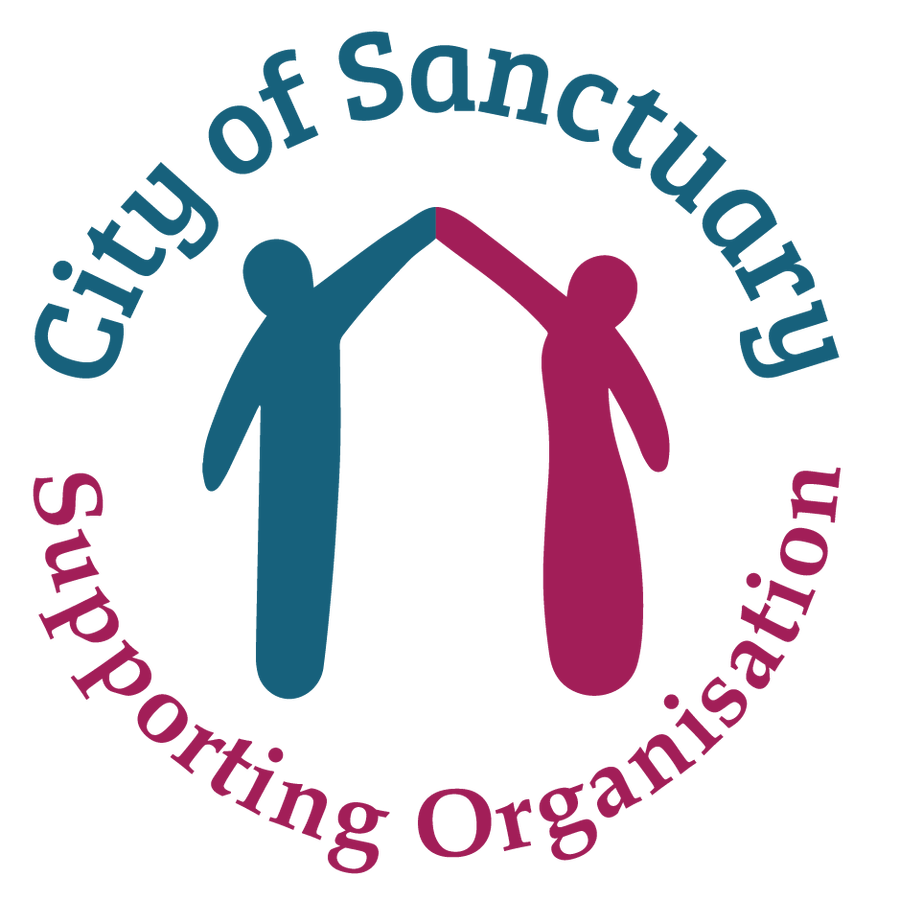 Supporting Organisation Pledge
We support the 'City of Sanctuary' vision that the UK will be a welcoming place of safety for all and proud to offer sanctuary to people fleeing violence and persecution.
We endorse the City of Sanctuary Charter, and agree to act in accordance with City of Sanctuary values and apply the network principles within our work (as far as our specific context enables us to).
We recognise the contribution of people seeking sanctuary. Sanctuary seekers are welcomed, included and supported within our context. We expect our branches or local groups (if any) to support their local City of Sanctuary group if one exists, and will facilitate contact between them and their local City of Sanctuary group.
Our School Approach
Our aim is to foster a welcoming culture of welcome and inclusion for all, especially asylum seeking and refugee families. We want to educate the whole school community about the human right to sanctuary and engage with sanctuary seekers and families in the local community.
The core processes are to Learn, Embed and Share.
Learn: learning about what it means to be seeking sanctuary, both in general, and specifically.
Embed: taking positive action to embed concepts of welcome, safety and inclusion within the school including, but not limited to, the pupils, teaching and administrative staff. To take steps to ensure this progress remains sustainable.
Share: sharing your vision, achievements, what you have learned, and good practice with other schools, the local community and beyond.
Strand

Criteria

Learn

Criterion 1: Training and education opportunities are provided for school staff & management on refugee, asylum and migration issues

Criterion 2: Evidence of refugee/asylum/migration learning activities are included into school life and at least one example in the curriculum, across the key stages.

Embed

Criterion 3: The School must demonstrate how it has embedded the concept of welcome and inclusion in the school. This should show how the school will continue to develop and sustain a culture of welcome beyond the award and ideally, this should be linked to the School's Improvement /Development Plan and made clear in policy documents and induction processes.

Criterion 4: Recognition of and participation in the annual Refugee Week or other annual/regular celebratory events which highlight the contribution of people seeking sanctuary and migrants to the UK. More information about the annual event can be found here: http://refugeeweek.org.uk. NB. We recognise that not all schools will be able to participate in the annual national Refugee Week which usually takes place during the third week of June, but would encourage all schools to find ways to regularly mark and celebrate the experiences and contributions of sanctuary seekers living in the UK.

Criterion 5: Commitment to supporting age-appropriate active pupil voice on sanctuary and welcome/welcoming activities in the school. For example, this might mean ensuring that your School Council or other student-led groups are actively involved in the process of working towards recognition.

Share

Criterion 6: A public commitment to the City of Sanctuary vision of welcome, including the endorsement of City of Sanctuary charter which can be done via signing the City of Sanctuary organisation pledge. This pledge should be included on the school's website and in a public space in the school. Some local City of Sanctuary groups have their own pledge and therefore Schools would be encouraged to sign these pledges if appropriate.

Criterion 7: The school publicly highlights its activities in support of welcome and inclusion. This can include social media/website posts, school newsletter updates or attending regional activities or meetings. NB. Once a school has achieved a sanctuary award, we expect schools to include the Schools of Sanctuary logo and a link to the Schools of Sanctuary webpage on their website.

Criterion 8: Commitment to on-going engagement with the Schools of Sanctuary stream. This may include sharing resources, ideas and achievements via the school's website or the national City of Sanctuary website, and/or with other local/regional schools.
We are committed to creating a safe environment that includes everybody in a school, regardless of people's background, ethnicity, faith or gender. At Chapel End Junior Academy, everyone is welcome.